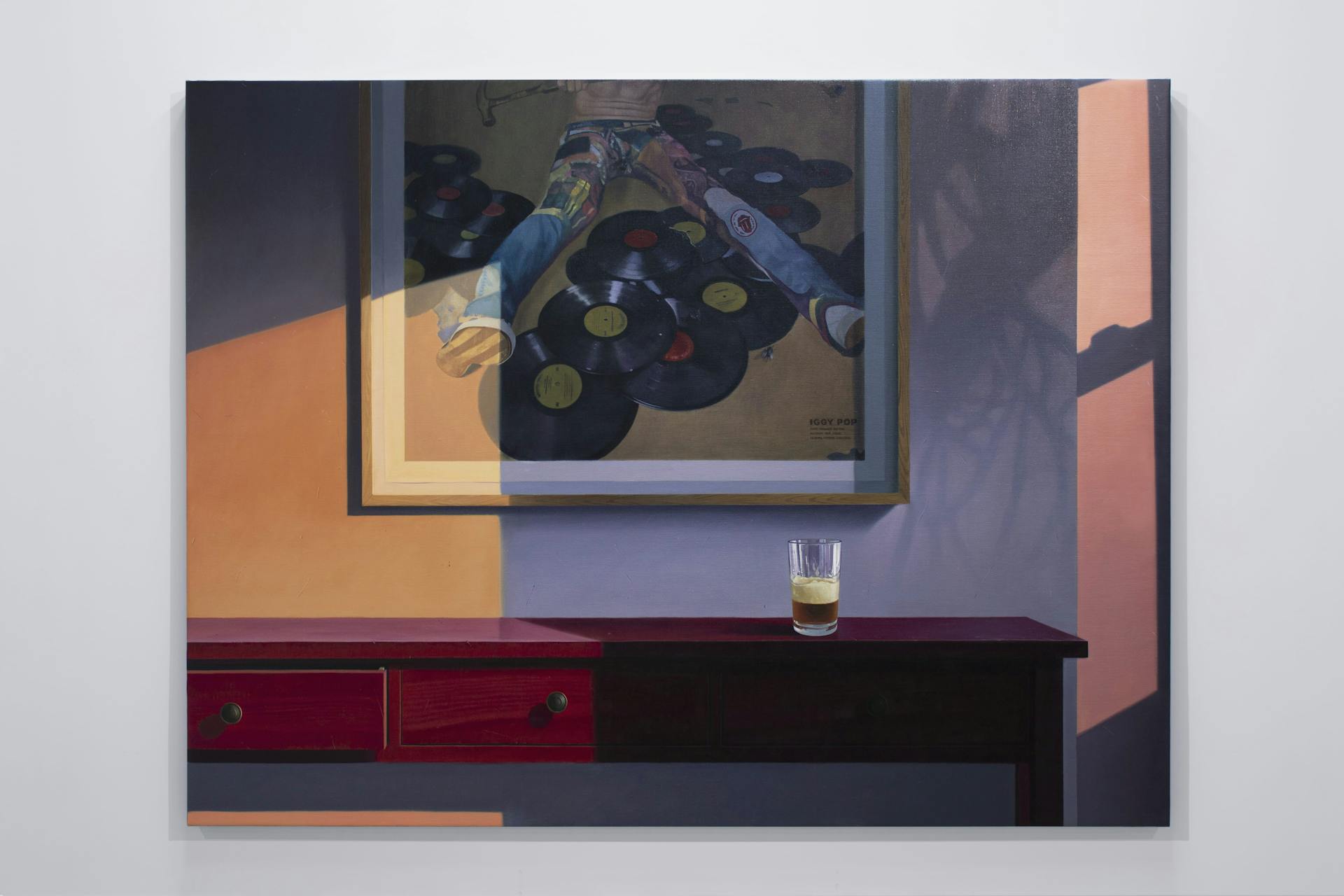 Paul Rouphail
Artists information
Paul Rouphail (b.1987, Chicago, IL), lives and works in Philadelphia, PA.
Paul Rouphail is a painter living and working in Philadelphia. Based in the tradition of still-life painting, his canvases subtly undermine their own realism with details reaching just beyond logical comprehension. Rouphail's works present genre-bending scenes within scenes reminiscent of seventeenth-century European and twentieth-century American landscape painting renewed with psychologically and politically pointed components. Drawn from life, memory, and the history of painting, the everyday objects in Rouphail's images intimately inform and contradict one another through an atmospheric blend of sharp light and various visual layering devices. Recurring subjects like overflowing beverages, neatly prepared meals, books, insects and flags become the compositional guidelines for his work, functioning as both framing devices and stand-ins for the figure. Walls and windows cut sharp profiles against deep pictorial space, foregrounding an array of beguiling subjects within luminous—and ominous—settings.
--
Paul Rouphail received his BFA from Carnegie Mellon University, Pittsburgh and his MFA from the Rhode Island School of Design, Providence in 2016. Recent solo exhibitions include A Nearer Sun, Jack Barrett, New York (2022); Another Night, Smart Objects, Los Angeles (2022); The Passenger, Stems Gallery, Brussels (2021). Recent group exhibitions include Galerie Sultana, Paris, FR; Carl Kostyál, Stokholm, SE. Nicelle Beauchene Gallery, Fisher Parrish Gallery, George Adams Gallery, Nancy Margolis Gallery, and Microscope Gallery, New York, NY; The Miller ICA at Carnegie Mellon University, Pittsburgh, PA; and White Columns online.
Rouphail's work has been reviewed online and in print, including the Contemporary Art Review Los Angeles, Tank Magazine, Artspace, New American Paintings, Maake Magazine, and Gestalten Press' Imagine Architecture, among others.
In 2023, Rouphail will present new works at Jack Barrett at the Dallas Art Fair, Dallas, TX; a solo exhibition with Stems Gallery at Taipei Dangdai, Taipei, TW; and exhibit in About Painting with Galerie Rolando Anselmi, Rome, IT. Additionally, Rouphail will be an artist-in-residence at Palazzo Monti, Brescia, IT. Rouphail's forthcoming solo exhibition with Stems Gallery, Paris, FR will take place in January, 2024.