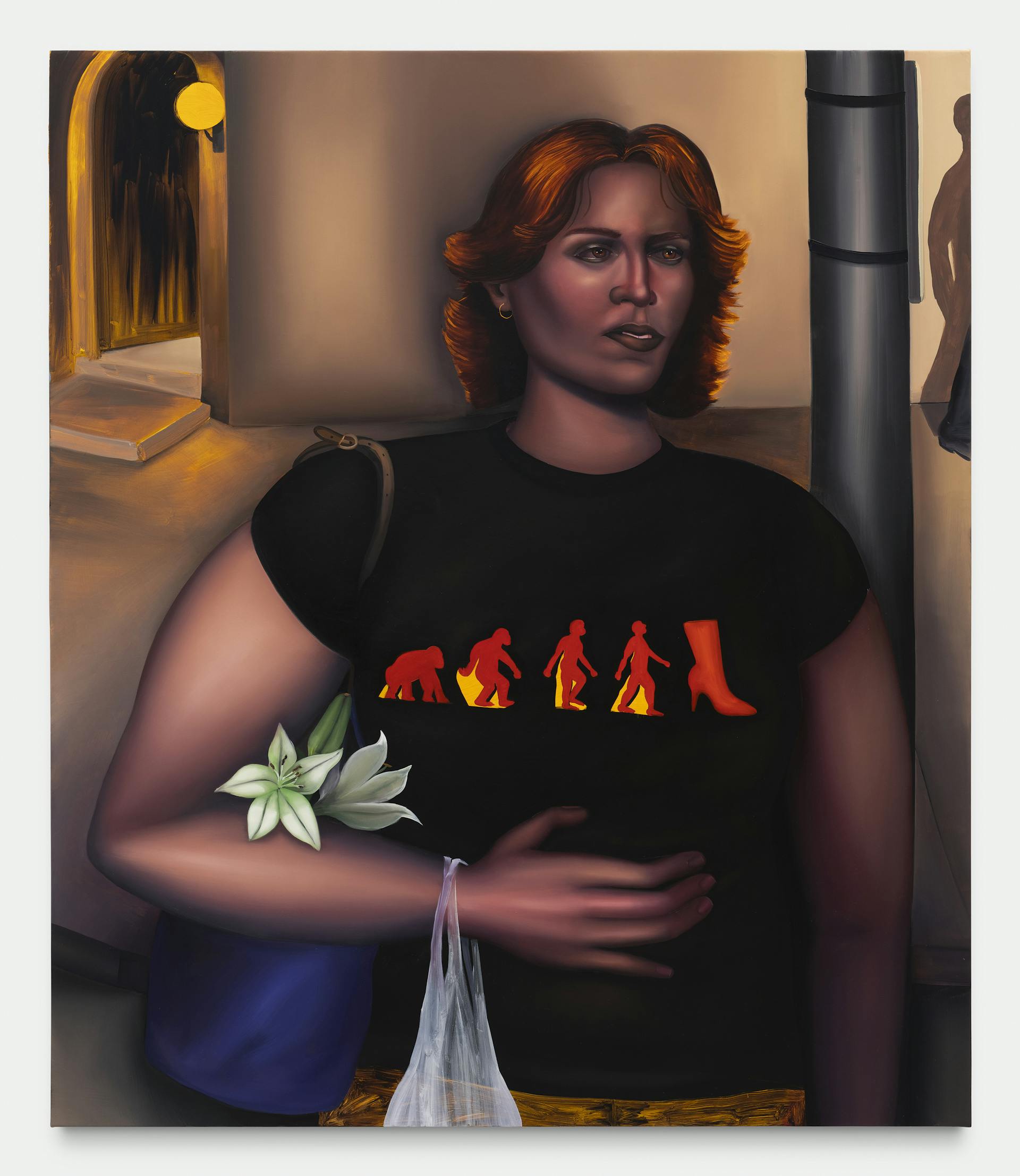 Coady Brown
Artists information
Coady Brown (1990, Philadelphia, PA) lives and works in Philadelphia, PA.
Coady Brown's figures inhabit tightly framed, intimate spaces in paintings that explore the vulnerability of our connections and relationships. Engaging in acts of self-presentation and self- preservation, they delicately juggle their public and private lives. Figures become reflections of their environments, mirroring these heightened, surreal, frenetic, sexy, and sorrowful states.
According to Brown, her figures are "specifically dressed. The emphasis on fashion is a celebratory declaration of the body... fashion becomes a site of freedom, a place to explore self-expression and presentation." Figures tend to be androgynous, understanding gender fluidly and that femininity can be a site of both strength and extreme vulnerability. Caught in various states of harmony, anxiety, ecstasy, and anguish, figures navigate the world and uncertainty of the everyday, from intimate boundaries in bars and bedrooms to the unknown that awaits outdoors. It is a world fraught with the instability and paranoia of contemporary life.
-
Brown received her BFA from Tyler School of Art, Temple University in 2012 and her MFA from Yale University in 2016. She has exhibited both nationally and internationally at Stems Gallery, Brussels, BE; 1969 Gallery, New York, NY; Taymour Grahne, London, UK; Shulamit Nazarian, Los Angeles, CA; among others. Recent group exhibitions include Carlye Packer, Palm Springs, CA; Morgan Presents, New York, NY; The Fine Arts Work Center, Provincetown, MA; Shulamit Nazarian, Los Angeles, CA; Green Family Art Foundation, Dallas, TX; Carl Kostyal, Stockholm, SE; Monya Rowe, New York, NY; Kunstraum Potsdam, Berlin, DE; Taymour Grahne, London, UK; Richard Heller Gallery, Los Angeles, CA; Harper's Book, East Hampton, NY; Stems Gallery, Brussels, BE; Koenig and Clinton, Brooklyn, NY; Angell Gallery, Toronto, CA; NAM Project, Milan, Italy; Yale University, New Haven, CT; among others.
She is the recipient of several fellowships and residencies including The Fine Arts Work Center, Skowhegan School of Painting and Sculpture, Fountainhead, Vermont Studio Center, and the Yale Norfolk School of Art. Awards for her work include the Carol Schlosberg Memorial Prize for Excellence in Painting, the Richard Cramer Color Award in Painting, and the Gianni Caproni Art Prize in Painting. Her work has been written about in The New York Times, The Village Voice, and New American Painting. Brown's works are included in public collections such as X Museum in Beijing and Colombus Museum of Art.