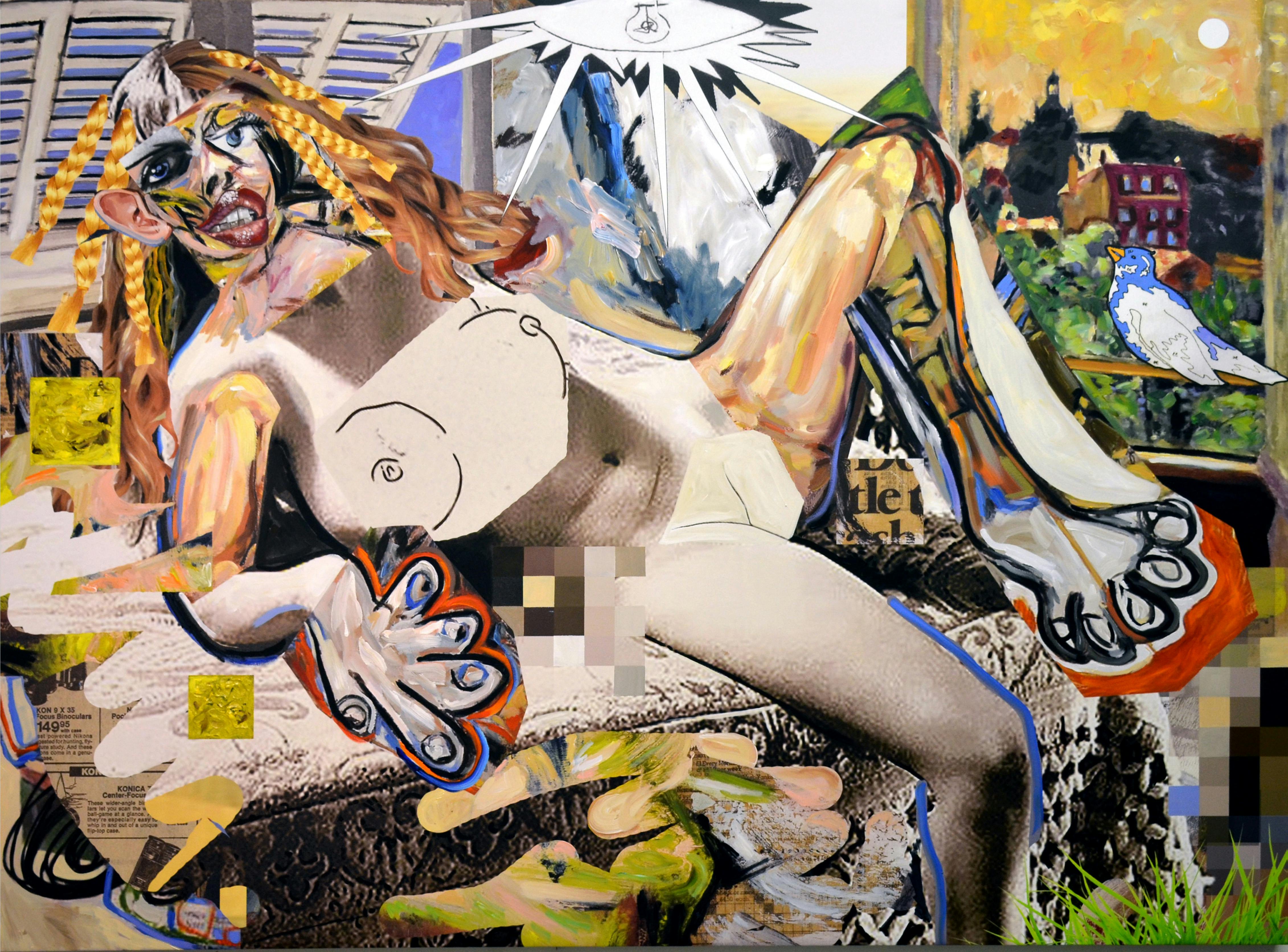 Allison Zuckerman
Artists information
Allison Zuckerman (b. 1990, Harrisburg, PA) lives and works in New York, NY.
Allison Zuckerman's large scale canvases take a selection of female-orientated images from art history and, through the application of oil and acrylic paint, crystal rhinestones, and embedded archival CMYK ink, fuse them together in collage. Her work juxtaposes colourful pop imagery with a historical aesthetic. Through this marriage of epochs Zuckerman seeks to reclaim female figures from a male-dominated art historical canon, and does so with palpable excitement, humour and love.
-
Allison Zuckerman studied at the Yale Norfolk Summer School of Art, received her BA from the University of Pennsylvania, Philadelphia, PA in 2012 and her MFA from the School of the Art Institute of Chicago, Chicago, IL in 2015. She has exhibited both nationally and internationally, with Ross + Kramer, New York, NY; The Ranch, Montauk, NY; Kravets Wehby Gallery, New York, NY; Koenig, Basel, CH; Carl Kostyal, Stockholm, SE; Albertz Benda, New York, NY; Jeffrey Deitch, New York, NY; Brand New Gallery, Milan, IT; Gallery Different, London, UK; David & Schweitzer Contemporary, New York, NY; among others.
The artist has shown in institutions such as Arsenal Contemporary Art, Montreal, QC; Pizzuti Collection, Columbus, OH; Kuntsforeningen GL STRAND, Copenhagen, DK; Burrison Gallery, University of Pennsylvania, Philadelphia, PA; Art Association of Harrisburg, Harrisburg, PA; Fundación del Centro Cultiral del México Contemporáneo, Mexico City, MX; Art Association of Harrisburg, Harrisburg, PA.
She is the recipient of several fellowships and awards including the Rising Star Award from Harrisburg Academy, George and Ann Siegel Award, Edes Foundation Prize, W. Cornelius VanPappelendam, Daniel Vandegrift , John W. Kurtich Foundation, Nippon Steel Presidential Award, R. Jean Brownlee Award, Kelly Arts Research Grant, Ellen Battell Stoeckel Fellowship from Yale University, Featured Student Artist. Her work has been written about in Vogue, Metal Magazine, Hypebeat, Forbes, Hi Fructuose, Art Viewer, Under the Radar, Indulge Magazine, Jerusalem Post, The New York Style Magazine, S/Magazine, National Geography, Cultured, Whitenot, Artnet, Penn Publications Cooperative Award, 34th Street Magazine, and New American Painting. Additionally, Zuckerman has collaborated on projects with Tod's, Charli XCX, Louis Vuitton in conjunction with Vogue Italia and Veuve Clicquot.